Camilluccia - Farnesina - Ponte Milvio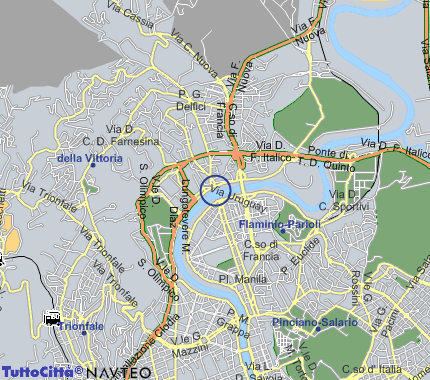 Green area that houses a few Embassies. It is only a 10 minute drive to the City Centrum and 20 min to many of the the major International schools and therefore popular with expatriates.The apartment buildings and compunds of condominiums who make up the majority of housing here, were mainly built in the 70's and 80's. The properties are considered to be of middle-high to high standards. The apartments tend to be larger, often with terraces and covered parking available.
Having a car living here is advisable.
An unfurnished apartment with 2 bedrooms and a livingroom could be priced from 1500 € to 2500 € .
Cassia and the Giustiniana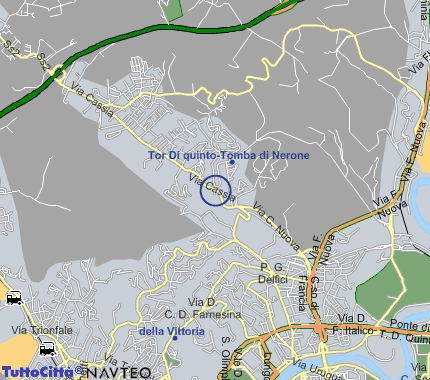 The Cassia is one of the ancient roads originating in Rome. It heads north. Just outside the G.R.A. it intersects with Via Giustiniana which lends the name to this quiet green area. The housing here were mostly built in the '70 and '80 as small apartment buildings interspersed with small commercial areas. The area is very convenient for its proximity to the main international schools, the G.R.A. and for those working at Fiumicino airport. Housing prices are reasonable.
Many expatriate families live here.
Very inconvenient for those who must commute to the City Centrum in rush hours: it may take up to 2 hours in the traffic jams on the Via Cassia!
Apartments are usually well made. Common features are balconies, terraces and covered parking lots. Some of the compounds might also have common swimmingpools.
An unfurnished 2 bedroom with livingroom apartment could be priced from 1500 € to 2000 € .
Cassia - Olgiata
The "Olgiata" is well known to many expatriate families residing in Rome. It is a fenced and and 24 h garded residential compound encompassing more than 600 hectars with golf club of 18 stations, (
http://www.olgiatagolfclub.it/eng/index.asp)
;
2 horse ridding clubs with indoor field; tennis club; swimming pool and restaurants.
Nicely built in the '70 and '80's, it consists mainly of detached houses surrounded by green areas, sometimes with swimming pools. You will find only a few apartments buildings here.
It is very convenient for families with children as it feels protected with almost no car traffic around and because it is well protected. In these compounds you can live isolated within nature. Socializing with other expatriates is easy at the various sport, golf, horse riding clubs within the compound.
Having a car here is a necessity. A main disadvantage is the commute to Rome Centrum. In rush hours it could take up to 2 hours. The area is relatively close to major International Schools. Villas range from 2000 € up to 5000 €. per month.